Stress levels have skyrocketed for business owners and employees during this difficult time. With COVID-19 continuing to spread, safety has become the number 1 concern for our Salt Lake City community. Unfortunately, many businesses are realizing that enforcing proper safety procedures is not as easy as they thought. Without the proper tools, essential businesses currently operating, and nonessential businesses looking to re-open, can create safety hazards and open themselves up to liability. We are here to tell you that there is an easy and affordable way to create a safe operation for employees and customers, comply with every new safety order, and limit liability for your Salt Lake business. Social distancing graphics can help businesses create a safe experience for the Salt Lake City community. By setting reminders, procedural guidelines, and warnings social distancing graphics can protect your community and your business.
Give Your Salt Lake City Business an Advantage with Social Distancing Graphics
Our 3M social distancing graphics are completely customizable and versatile in their application. Whatever design or application you want, we can provide. These graphics can be quickly applied to virtually any surface, including metal, concrete, carpet, mirrors, windows and so much more. If you need a graphic replaced, no problem, our professional team can easily remove the graphic without damaging any surfaces. This makes social distancing graphics the easiest and most affordable way to comply with up-coming, mandates safety procedures and keep your Salt Lake City community safe.
Remind Employees and Customers to Wash Their Hands:

Aisle and Directional Graphics:
Set clear paths for one way aisles and reminders for social distancing.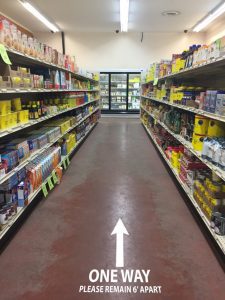 Check-Out Line Graphics:
Clearly designate the appropriate distance for waiting in line.
Door Graphics:
Implement warning signs, mandatory mask areas and so much more:

Have Your Preferred Surface Graphic Experts Work For You.
Window Film Salt Lake City is currently operating during normal business house and providing free virtual consultations. Protecting our Salt lake Community is our priority. We would love to provide your business with a tailored safety plan to allow peace of mind for everyone. Protect your community with social distancing graphics and mitigate liability.
For more information on social distancing surface graphics, please contact us!