The Difference Between Bullet-proof & Bullet-resistant Glass
The truth is there is no such thing a "bullet-proof glass". The term "bullet-proof" it is a common misnomer used to describe glass or other transparent window/door cover materials that are, in reality, resistant to bullets. That notable difference matters because in the real world there is no glass or glass-like structure that, with enough time, concentrated effort, and/or a big enough caliber bullet, could avoid penetration.
What then, are the safety glass products that we, here at Window Film Salt Lake City, sell? And can they really protect your home or commercial property?
Window Film Salt Lake City Security Glass
Our strongest safety glass application is, by far, one to multiple applications of C-bond. This incredible window coating film provides an invisible "safety barrier" that resists high impact force and severe stress environments: bullets, bats, hammers and more. A high-tech material, engineered with "nanotechnology", it has unique properties which, in the event of blunt or even highly focused impact, will remain shattered but intact.
Below is a picture of a test we performed ourselves using a C-bond application.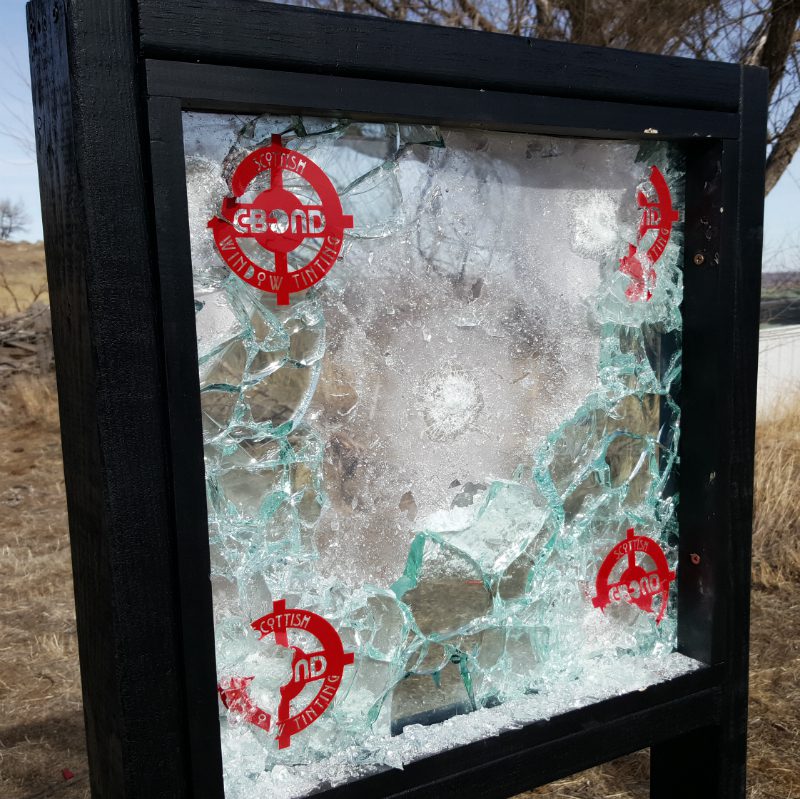 As you can see, after 5 bullets the glass is severely cracked and broken but still impenetrable. If this was an intruder they would still have a lot of work to do before the police arrived or you escaped the premises,
The C-Bond system dramatically increases strength, while making sure glass that does break is not dangerously sprayed throughout the premises. Great for ballistic attacks, bomb blast, and even hurricanes.
Salt Lake City's Bullet Resistant Glass Experts
At Window Film Salt Lake City we are experts in security glass installation. While no company can say their glass is "bullet-proof", we can tell you that the windows we treat with C-bond are about as close as you can come. Contact us today for more information on safety glass, it's application and costs. We will answer all your questions and get you set up with a free consultation today!