There's no denying the charm of historic architecture. But when it comes to branding your business as successful, a worn down or damaged exterior sends the wrong message. Though appearances aren't everything, professionalism is. Your clients may be more likely to trust you if they see that you put care and effort into your business, including your physical infrastructure. If you have cracked or chipped windows, you know that these pose an issue. But renovations are expensive, so what can you do? Exterior window tinting can restore the appearance of your Salt Lake City commercial building in a cost-effective manner.
A Complete Transformation
Exterior window film works to conceal imperfections in glass in a stylish manner. It can completely transform the appearance of your building to make it look like a modern, thriving business. We offer a wide range of exterior window films that can pleasantly accentuate your existing architectural design.
Improve Building Insulation
The problem with broken or damaged glass is that it negatively affects the insulation of your building. Glass is responsible for over 25% of heat transfer, which can become a serious issue in the summer or winter. But exterior window film can increase the insulation of your glass doors and windows. And it's much more affordable than window replacement.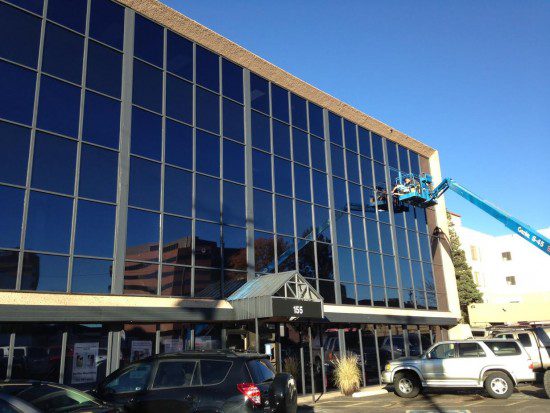 An Energy Efficient Option
Exterior window film also happens to be one of the most energy efficient options. Since it's applied on the outside, it creates a barrier between the sun and underlying glass. It helps to keep interior temperatures cooler during the hot summer months and increases the efficiency of your HVAC system.
Exterior Film Works for Any Glass Surface
Unlike traditional window films, exterior window film is applied to the outside of your building. That's what makes it perfect for applying to windows that are high up or in hard to reach area. Exterior window tinting is a smart solution for restoring:
Glass ceilings
Glass domes
Skylights
High rise buildings
Transoms
Contact Us for Exterior Window Tinting in Salt Lake City
It's time to modernize. Bring your business into the 21st century with exterior window tinting. Call Window Film Salt Lake City to schedule an appointment or get more information.