Salt Lake City is a sunny place with a fantastic climate. But where there's sun, there's glare. This has become a bigger problem than ever in recent years because of our society's increasing dependence on computers, laptops, tablets, and mobile phones. Glare can make it anywhere from mildly difficult to near impossible to read the screens of any of those devices, or even to watch your television.
What can you do? Pull the shades or curtains? Move to a different area of your home or office? Or how about permanently solving the problem with glare reduction window tint? Also known as glare reduction window film, this is a product that is installed to your windows, residential or commercial, that substantially cuts glare.
Why sit in a darkened room? Now you can kick back and watch the big game on your new 72″ flat screen, and never have to plunge the room into darkness by closing the curtains, just so you can see the show. And as an added benefit, glare reduction window tint also contains a UV block. It will block up to ninety nine percent of the sun's damaging UVA and UVB rays, protecting your interiors from fading.
This will keep your flooring, your furnishings, your artwork looking new and fresh for many more years. Glare reduction window tint is an affordable way to stop glare from interfering with your life, giving you eye strain and squint lines, and letting you or your staff be more productive in the office and at home.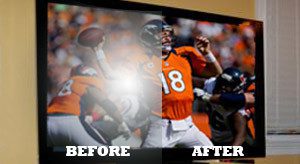 You probably already have a glare reduction window tint in the windows of your vehicle. Why not add that same comfort to your home or office? And why not grab some other benefits as well? Many of our energy efficiency window tints contain glare protection built in, so they will save you money on heating and cooling costs while making you much more comfortable in your own home.
Squint no more with glare reduction window tint!
Here at Window Film Salt Lake City, we offer experienced installation, the top quality window films available on the market today from industry leaders Llumar, EnerLogic, and Vista, as well as a full line of window films for different purposes. We already talked about glare reduction window film and energy efficient window film. We also carry security/loss prevention window film and a terrific variety of privacy or decorative window films, anti-graffiti window film, and even a bomb blast window film for government installations, energy or chemical labs, or any other commercial space that might be under threat of explosion, whether from bomb blasts or not.
For more information about glare reduction window film or any of our other window tinting products, please contact us today.