Why use a restaurant window film? There is a lot more than just one reason. Here at Window Film Salt Lake City, we offer a full line of the top window films available on the market today from industry leaders Llumar, Enerlogic, and Vista.
With these innovative products, each one gives a different roster of benefits. When it comes to restaurant window film, Salt Lake City restauranteurs choose the ones that suit their business.
Let's start by talking about privacy window film. Would you like to give your patrons a more exclusive feel? A classy and private ambiance? That's the sort of thing people enjoy and remember. With one of our privacy restaurant window films, Salt Lake City restaurants can create the exclusive mood for their clients. They can block a view of a mall or parking lot. They can shield their clients from prying eyes of passersby in the streets. This product can give a window a mirrored finish or the look of frosted or etched glass, which will still let in the natural light.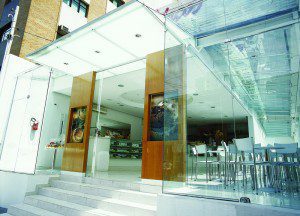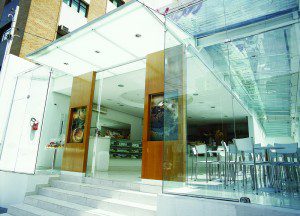 Next up is glare reduction window film. This is a fantastic product for a restaurant, if we do say so ourselves. If your eatery has large plate glass windows, you might have shades to block the sun. You might have clients asking for a table away from the window when the sun is really strong. With this type of residential window film, Salt Lake City diners can enjoy any table in a restaurant, any time of the day, and even be able to work on their tablets or read their phones.
Let's take that a step further. Have you ever had a customer ask for a table away from the windows because they are letting in so much cold air in the winter? Do you hate to see your customers huddled in a hat and muffler while they eat, no matter how much heat your furnace is blasting out? With energy efficiency restaurant window film, Salt Lake City eateries can keep their customers more comfortable summer and winter, while saving money on their heating and cooling costs at the same time.
Now let's talk about security. With security restaurant window film, Salt Lake City restaurants get a coating that will make their windows much less prone to shattering, even if someone tries to break the window or a tree branch smashes down on it in a storm. And if the window does shatter, the glass will be held in place, not falling all over the ground in a dangerous mess.
For more information about restaurant window film, Salt Lake City or anywhere in Utah, we hope that you will contact us today.