Fight Off Vandalism with Anti Graffiti Film in Salt Lake City
When your clients enter your office or commercial building, they make natural judgements about your business. The truth is, your office, store, or commercial building is the face of your business. Having a clean, immaculate space makes people feel more confident about the quality of your products and services. When your business looks professional, your customers feel more comfortable about investing their time and money into what you offer.
The presence of graffiti and other vandalism can make your business look worn down and unclean. That's not exactly the kind of statement that you want to make when you're trying to make a deal with a new client. Luckily, the innovative minds at Graffiti Shield have come up with a product that's specially designed to handle this troublesome type of property crime. Anti graffiti film for Salt Lake City commercial businesses is the perfect solution for damaged and graffiti-ridden metal surfaces.
What's Anti Graffiti Film?
Anti graffiti film is a highly durable, protective film that's designed to cover up and prevent damage to the metal, aluminum, and stainless steel surfaces of your building. It can be applied to elevators, escalators, signage, and more, and is available in a wide range of finishes. Anti graffiti film is created with a removable adhesive system so it can be easily replaced when vandalism occurs.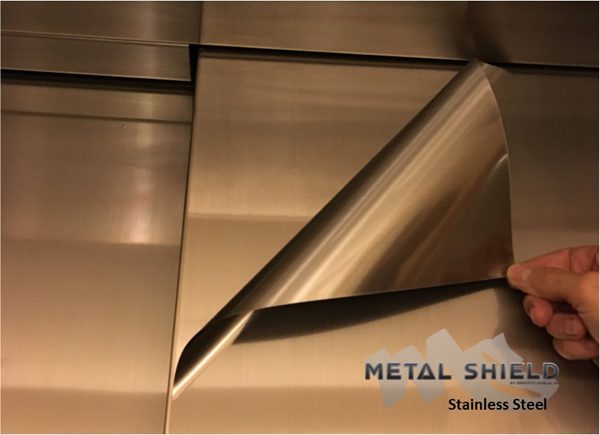 The Latest & Greatest in Anti Graffiti Film
Have you heard the news? The experts at Graffiti Shield have outdone themselves again and recently released a new anti graffiti film product, The Metal Shield Stainless Steel 6-Mil. This newly designed film has a stainless steel finish that matches almost all of the existing elevators and escalators on the market. It features benefits such as:
-Protection against etching, & scratching
-A removable adhesive system
-Acid & paint protection
-Is 6 mil thick and highly durable
-Can be cut to fit any shape and size
The Metal Shield Stainless Steel is available for purchase in 25' increments or at a roll size of 60"x100'. Call Window Film Salt Lake City today to have this product professionally installed!
Commercial Uses for Anti Graffiti Film in Salt Lake City
Due to the wide range of finishes available, anti graffiti film can be applied to practically any metal surface. Some common commercial uses for anti graffiti film in Salt Lake City include:
Public transit
Restaurants
Restroom partitions
Elevator cabs and doors
Escalator sides and surrounds
Advertising media
Theme parks
Malls
Hospitals
Bus shelters
Ticket vending machines
Schools
Movie theaters
Protect Your Business from Vandalism
Contact the experts at Window Film Salt Lake City to get protection from vandalism and property crime with anti graffiti film in Salt Lake City. We offer onsite consultations and are always available to answer any questions you may have. Just give us a call to schedule an appointment or get more information.