When it comes to commercial window film, Salt Lake City business owners frequently tell us that they are not familiar with its benefits, or the different types of products on the market. Fact is, commercial window film can offer a business many different benefits, depending upon the type of product they choose.
Commercial window film can be installed in a wide array of business types, including hotels, hospitals, shops, malls, salons, restaurants, bars and pubs, even factories and warehouses. Let's take a run through the most common types of commercial window film Salt Lake City businesses might be interested in.
1. Privacy window film: with this type of commercial window film, Salt Lake City businesses can add privacy to any glass window, door, partition or wall. Privacy films still let in the natural light, and can look like mirrored glass, etched or frosted glass, and various other styles. With privacy window film, a space can be made to feel more exclusive, more high-end, and obviously, protect the staff and customers from prying eyues.
2. Security window film: with this type of commercial window film, Salt Lake City businesses can add another level of protection to the security system they already have. This film contains a heavy duty polyester mesh, which is virtually undetectable once installed. But if a burglar or vandal tries to smash a window, or a stray softball or tree branch come flying at it, the window will hold in place in the frame. No glass fragments all over the place to clean up. This product comes in various different thicknesses. The top of the line loss prevention window film will resist shattering entirely.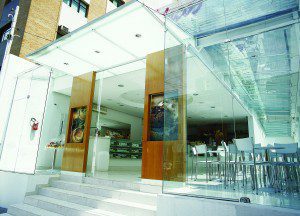 3. Energy efficiency window film: with this type of commercial window film, Salt Lake City businesses can save money on both heating and cooling costs. Once applied, this product makes windows considerably more thermally efficient, saving money on heating costs all winter and on air conditioning costs all summer. As a bonus, it also blocks 99 percent of the sun's damaging UV rays. These are the spectrum of sunlight that cause your flooring, your upholstery, your furnishings, and your artwork to fade and become shabby looking before their time. So energy saving window film might just also save your business money on replacement furnishings as well.
4. Decorative window film: this product gives any glass surface an instant infusion of style, color, or texture and interest. It can also be customized to present a message to passersby, allowing you to use it for advertising purposes in your windows.
For more information about commercial window film, Salt Lake City or anywhere across the state of Utah, please contact us at Window Film Salt Lake City today.